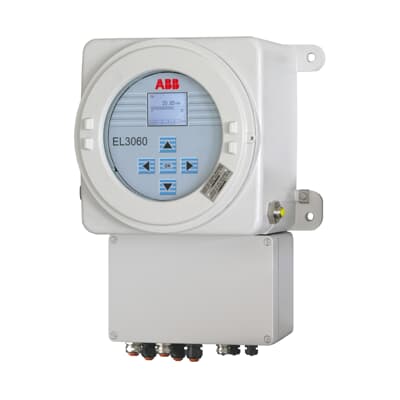 The ABB EL3060 series is compactly built and especially designed for hazardous areas. The gas analyzer is made up of the flameproof enclosed control unit which can also contain one analyzer
The specialists for hazardous locations
The EL3060 series is compactly built and especially designed for hazardous areas.The gas analyzer is made up of the flameproof enclosed control unit which can also contain one analyzer. The infrared photometer is built into a separate flameproof enclosure and can be separately installed from the control unit. Their robust and flameproof design meets the requirements for use in hazardous areas, Zone 1, Category 2G in accordance with European ATEX legislation. Their display with touch screen renders safe operation without opening the housing.
Well-proven measurement technology
The analyzers for the EL3060 have been taken from the modular product line Advance Optima where they have been successfully used in process analytics for many years.
Infrared photometer Uras26
Paramagnetic oxygen analyzers Magnos206, Magnos28
Thermal conductivity analyzers Caldos27, Caldos25
Easy to Combine
An oxygen as well as the thermal conductivity analyzer can be combined with the Infrared Photometer. This means that complex measuring tasks like internal cross sensivity corrections with up to 5 measuring components in one device can be fulfilled.
Advantages EL3060
Well-proven measurement technology
Compactly built, easy to combine
Intuitiv menu, safe touch screen operation
Easy to install
Proved standard interfaces, Modbus, PROFIBUS
Infrared-Photometer Uras26
Measuring component
Smallest measuring range
Information
CO
0…10 ppm
Other approved components and measuring ranges described in the data sheet
2 measuring ranges per measuring component which can be freely selected
4 measuring components
CO2
0…5 ppm
SO2
0…25 ppm
NO
0…75 ppm
Oxygen Analyzer Magnos28
Measuring component
Smallest measuring range
Information
O2
0…0,5 Vol%
2 measuring ranges per measuring component which can be freely selected
Oxygen Analyzer Magnos206
Measuring component
Smallest measuring range
Information
O2
0…0,5 Vol%
2 measuring ranges per measuring component which can be freely selected
Suppressed measuring ranges e.g. 19…21 Vol% O2, Suppressed range max. 1:10
Thermal Conductivity Caldos25
Measuring component
Smallest measuring range
Information
H2 in N2 or in Air
0…10 ppm
1 measuring range per measuring component
3 measuring components
SO2 in N2 or in Air
0…5 ppm
Thermal Conductivity Caldos27
Measuring component
Smallest measuring range
Information
H2 in Air
0…1 Vol%
For other components and measuring ranges please refer to the Data sheet

2 measuring ranges per measuring component
4 measuring components

H2 in N2
0…1 Vol%
He in Air
0…2 Vol
CH4 in H2
0…3 Vol%
Certification
Ex-Certificate
Material
Flameproof enclosure
ATEX II 2G EEx de IIC T4
Aluminium diecast
Housing according to IEC/EN 60079-1
Terminal box according to IEC/EN 60079-7
Catalog and Questionnaire List