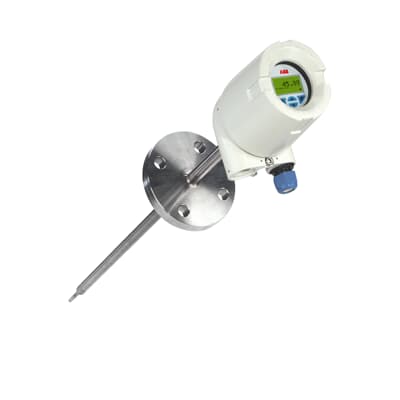 Temperature sensors for heavy duty application.
Main application for this heavy duty RTD or thermocouples temperature sensors is the pipe an tank engineering in high process requirements (e.g. offshore). It communicate with FOUNDATION Fieldbus, PROFIBUS PA, HART, 4 … 20 mA or direct sensor output.
SensyTemp TSP300 series sensors allow for measuring inset replacement during operation. With their short response time and high vibration resistance these devices meet the most demanding process requirements.
TSP311 without thermowell
– Insertion in an existing thermowell
TSP321 with welded tubular thermowell
– Screw-in thread, flange, compression fitting
TSP331 with drilled thermowell
– Screw-in thread, flange, weld-in socket
Data
Sturdy and versatile
– Thermowell, extension tube, connection head, transmitter
– Exchangeable measuring inset TSA101
Connection heads
– AGL: Aluminum, with screw-on cover
– AGLH: Aluminum, with upper screw-on cover
– AGLD: Aluminum, with screw-on cover and LCD indicator type A / AS
– AGS: Stainless steel, with screw-on cover
– AGSH: Stainless steel, with upper screw-on cover
– AGSD: Stainless steel, with screw-on cover and LCD indicator type A / AS
Transmitter in connection head
– 4 to 20 mA, HART
– PROFIBUS PA 3.01
– FOUNDATION Fieldbus ITK 5.2
Suited to explosion protection, intrinsic safety and flameproof enclosure
Catalog and Questionnaire List