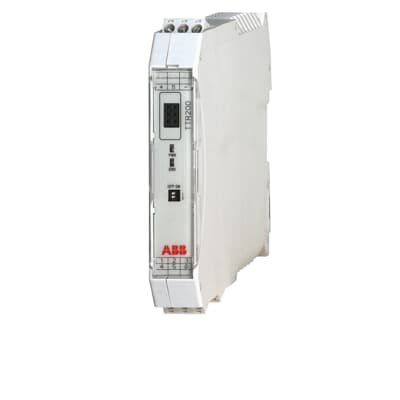 The TTR200 is a universal rail-mount HART temperature transmitter in a compact 17.5 mm housing. The transmitter provides increased device safety in compliance with NE89 and NE107 and hardware write protection.
Overview
The TTR200 is a rail-mount version of the TTH200 transmitter with the addition of two indicator LEDs. A green LED indicates that the transmitter is powered. A red LED would indicate a fault in either the unit or the sensor. TTR200 units can be placed in cabinet racks. It can be configured with ABB-tools such as DAT200 (Asset Vision Basic) via DTM, Handheld via EDD, FIM (Field Information Manager) or any standard tool using FDI-/FDT-Technology.
Data
Universal sensor input
– RTD, thermocouple, Ω, mV
Functional safety SIL 2 / SIL 3 in accordance with IEC 61508
Output signal
– 4 to 20 mA, HART
Accuracy 0.1 %, long-term stability 0.05 % per year
Wire break / corrosion monitoring in accordance with NE 89
Diagnostic information in accordance with NE 107
Approvals for explosion protection
– ATEX, IECEx, zone 0
– FM / CSA
– GOST
Fieldbus & HART – TTx200
ABB's freedom of choice offers the right driver for the major fieldbus protocols suitable for ABB devices.
The version matrix document shows for each protocol the software revision that's compatible to the hardware and firmware revision of the device.
Read first
– Software/hardware revisions: Version matrix
Software and documentation:
HART
– Software: DTM, EDD
– Driver description: Supplementary information
Stand-alone tool:
ABB offers software tools that use the listed drivers above for your device configuration and monitoring requirements. Read more & download
Fieldbus solutions:
ABB offers a wide range of fieldbus products, accessories, tools, support documentation, applications and news.
Catalog and Questionnaire List

Data sheet – TTR200 | Rail-mount temperature transmitter