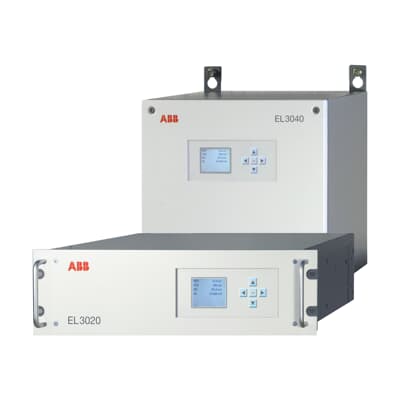 Analyzers so smart, they're simple – ABB's entry line for continuous gas analyzers. Robust and reliable for measuring gas concentrations in numerous applications. EasyLine is both a powerful and affordable line of instruments for the monitoring of gas concentrations in numerous applications
The advantages to you – EasyLine offers:
Flame Ionization Detector
Proven analyzer technology
Intuitiv operation via five buttons
UV photometer
Infrared photometer
Paramagnetic oxygen analyzer
Electrochemical oxygen sensor
Thermal conductivity analyzer
Trace oxygen analyzer
Extensive self-diagnosis functions
Internal QAL3 reporting option according EN 14181
Web server included for easy read-out by Internet browsers
First analyzers already meets the new European guideline EN 15267
19″ wide for rack mounting
Compact, purgeable IP65 enclosure for wall mounting
No need for test gas cylinders
Automatic calibration in combination with the superior ABB calibration cell technology in the photometer, no need for expensive test gas cylinders in most applications. Zero point with ambient air.
Photometer can be equipped with calibration cell
Long term stability proven
Optional QAL3 card allows internal automatic surveillance of drift and precision during operation
Good combinations
Several types of analyzers are available:
Combination of different analyzers in one single housing provides optimum economic and operational efficiency for your application.
IR photometer and electrochemical oxygen sensor
IR photometer and paramagnetic oxygen analyzer
IR photometer and thermal conductivity
UV photometer and paramagnetic oxygen analyzer
UV photometer and electrochemical oxygen sensor
Uras26 Infrared photometer
Sample gas, typical range
CO      0…100 ppm
CO2    0…100 ppm
CH4    0…100 ppm
SO2    0…100 ppm
NO      0. .150 ppm
O2      0…5 Vol%
Limas23 Ultraviolet photometer
Sample gas, typical range
NO      0…50 ppm
NO2     0…50 ppm
SO2     0…100 ppm
Caldos27 Thermal conductivity analyzer
More than 30 binary gas mixtures are configurable

Magnos28 Paramagnetic oxygen analyzer 
with microwing technology
Sample gas, typical range 
O2         0…2 Vol%
Measurement range suppression max. 1:50 e.g. 98…100 Vol%
Magnos206 Oxygen analyzer
Magn.-mechanic (dumbbell)
Sample gas, typical range
O2         0…2 Vol%
Measurement range suppression max. 1:50 e.g. 98…100 Vol%
ZO23 Trace Oxygen analyzer
Zirconia dioxide cell
Sample gas, typical range
O2         0…1 ppm
Fidas24 Flame Ionization Detector
Sample gas, typical range
Hydrocarbons          0…10 ppm (C1) to 1 Vol.% (C1)
Typical applications
• Emission measurement
• Combustion processes
• Blast furnace and converter gas analysis
• Turbogenerator monitoring
• Industrial gas filling
• Landfill gas monitoring
• Biofermenters
• Ambient air monitoring
• Silo monitoring
• O2 trace and purity measurement
• Warehouses and fruit storage
Catalog and Questionnaire List