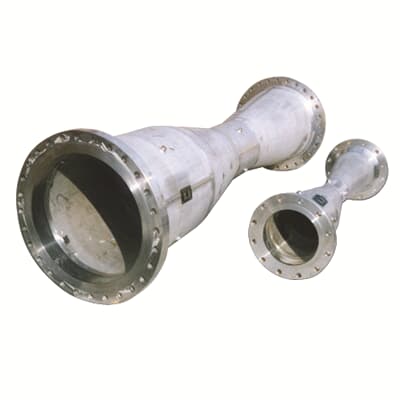 The Classical Venturi tube is a robust device, designed for use where low pressure-loss is required. ABB have been manufacturing Venturi tubes for over 100 years and their engineers were involved in the design and manufacture of some of the first Venturi tubes to be used in the UK.
Venturi tubes are available for line sizes from 50 mm to 1200 mm (2 to 48in) and can measure a wide range of relatively clean liquids and gases. The units are designed to ISO5167-1:2003 and have a substantial overall length, being typically 5D long (D = nominal pipe size).
There are two variants, based on differing manufacturing methods: VSD and VFB.
VSD
– machined from solid for pipe sizes DN50 to 250 (2 to 10 in)
VFB
– fabricated from rolled plate for pipe sizes DN200 to 1200 (8 to 48 in)
Catalog and Questionnaire List

Data sheet – Differential Pressure Flow Elements