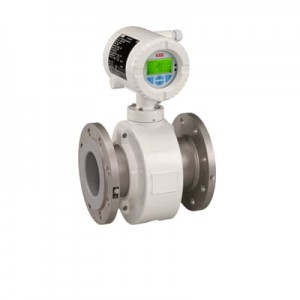 Proven to be tough, reliable and incredibly easy to work with, ProcessMaster FEP630 delivers the power to solve your most demanding process applications.
This innovative, next generation electromagnetic flowmeter provides a modular transmitter design combined with SmartSensor Technology and built-in Verification – technical advances that deliver a clear business and performance benefit. ProcessMaster's superior sensor design withstands the harshest environmental conditions.  Industry optimized liner and electrode materials and resistance to abrasion and corrosion, make ProcessMaster FEP630 the perfect fit for your application. ProcessMaster FEP630 is the no. 1 choice in sectors such as chemical, power, oil & gas, pulp & paper and metals & mining.
Overview
ProcessMaster FEP630 – The first choice for all industrial applications.
Advanced features and functionality that enable you to operate more efficiently, reduce costs and increase profitably.
Real-time Diagnostic keep your process up and running
– Detecting critical process conditions at an early stage reduce unscheduled downtime and maintenance
– Clear text messages simplify troubleshooting
In-built Noise/Grounding Check
– Verify the installation is correct from day one
– Checks for proper grounding which is fundamental to an accurate flow measurement
In-built Verification for highest confidence in your flow measurement
– Checking for sensor and transmitter integrity
– No need to remove the flowmeter from the process
Best in class filtering technology
– For a most stable flow signal
– Helping to operate your process at peak level performance
Simplicity of Operation
– Automatic self-configuration sequence
– Incredibly easy to work with
Backwards Compatibility

– Saves your investment in ABB flowmetering
General specifications:  
Measuring value error
– Standard 0.4 % of rate, option for 0.3% and 0.2 % of rate
Nominal diameter
– DN 3 to 2000 (1/10 to 80 in.)
Process connection
– Flange in accordance with DIN 2501 / EN 1092-1, ASME B16.5 / B16.47, JIS, AS2129
Nominal pressure
– PN 10 to 100,
– ASME CL 150, 300
Lining
– Hard rubber, soft rubber, PTFE, PFA, ETFE, Linatex
IP rating
– IP67 or IP68
Fluid temperature
– Up to 180 °C (356 °F)
Communication
– HART, PROFIBUS DP, Modbus
Ex approvals
– ATEX, IECEx, FM, cFM
Process diagnostics
– Empty pipe, partially filling, gas bubbles, electrode impedance, conductivity, sensor temperature
 Catalog and Questionnaire List