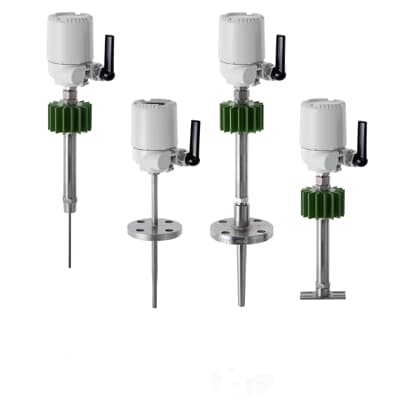 TSP300-W with Energy Harvester – the first autonomous WirelessHART temperature sensor.
The TSP300-W WirelessHART temperature sensor enables the easy addition of temperature measuring points throughout operations. Shorten installation times by eliminating complex wired infrastructure and lower overall implementation costs of process measurement with ABB´s wireless devices featuring WirelessHART communications.
Overview
With Energy Harvester, the autonomous TSP300-W wireless temperature sensor based on WirelessHART technology, features a multitude of new functions and enhanced diagnostic information. Unique driver-independent configuration of the sensor via push buttons and LCD display.
TSP311-W without thermowell
– for sensor protection. With or without integrated Energy Harvester
TSP321-W with welded thermowell
– for sensor protection. Without integrated Energy Harvester
TSP331-W with drilled thermowell
– for sensor protection. With or without integrated Energy Harvester
TSP341-W clamp-on
– non invasive sensor. With or without integrated Energy Harvester
Features and benefits
Powered via standard lithium battery with long service life
Battery exchangeable in hazardous area
Integrated energy power management with or without Energy Harvester to maximize the sensor´s life in operation without battery replacement
Fast and easy commissioning
Intuitive and intelligent operating concept
Configuration can be performed directly on the display as well as via EDD, DTM and handheld
Configurable update rates 4 seconds up to 60 minutes
Housing and antenna developed for applications also in harsh environment
EX approved
Catalog and Questionnaire List