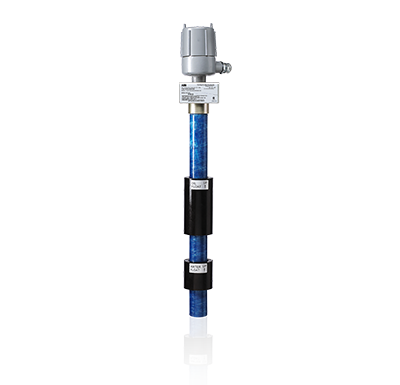 High accuracy liquid level and interface level detection
The LMT Series of level transmitters is a modular range of field mounted, advanced microprocessor-based electronic transmitters, utilizing multiple sensor technologies. Accurate and reliable measurement of liquid level and interface are provided in even the most difficult and hazardous  industrial environments. The LMT100 is also available with optional temperature measurement.
The LMT100 is based upon the magnetostrictive principle.
1. The device electronics generates a low energy current
pulse at fixed intervals.
2. The electrical pulses create a magnetic field which
travels down a specialized wire inside the sensor tube.
3. The interaction of the magnetic field around the wire
and the magnetic float causes a torsional stress wave
to be induced in the wire. This torsion propagates
along the wire at a known velocity, from the position of
the magnetic float and toward both ends of the wire.
4. A patented sensing element placed in the transmitter
assembly converts the received mechanical torsion
into an electrical return pulse.
5. The microprocessor-based electronics measures the
elapsed time between the start and return pulses
(Time of Flight) and converts it into a position measure-
ment which is proportional to the level of the float.
LMT100 is preferred for:
• Interface Measurement
• Exceptional performance with emulsion
• Measurement with foam on layers fluid surface
• Hydrocarbons and chemical control
Features:
High accuracy: 0.01% of full scale or + 1.27mm
Never requires re-calibration: set it & forget it
Superior Sensor (Patent #5,473,245)
Local indication with HMI display
Dual compartment housing with separate field
terminal compartment
Loop powered to 22m (75ft) probe length
Total and/or interface level measurement
Pressure to 165.48 bar (2400 psig) Std. 124.1 bar (1800 psig)
Temperature range: -195.5 to 426.6ºC (-320 to 800ºF)
with options
Field replaceable/upgradable electronics module
Built-in RFI/EMI filter
Digital communications
Options:
Two level indications
RTD for process temperature measurement
Glass viewing window
316/L Stainless Steel enclosure
21-point linearization table
ELECTRONIC TRANSMITTER
Repeatability: ± 0.005% of Full Scale or 0.305 mm (0.012 in), whichever is greater
Non-linearity: ± 0.01% of Full Scale or 0.864 mm (0.034in), whichever is greater
Measuring accuracy: ± 0.01% of Full Scale or 1.27 mm (0.050 in), whichever is greater1
Supply voltage: 12 to 42 Vdc – 4-20mA HART loop powered
Output/Communications: 4-20mA HART7®
User Interface: Interactive display, DTM, EDDL with NE107 messaging
Power consumption:
4-20mA:                           at 36.0 Vdc – 3.6mA 0.13 watts; 21mA 0.76 watts
at 12.0 Vdc – 3.6mA 0.043 watts; 21mA 0.25 watts
HART mode (4.0mA):      at 36.0 Vdc 0.144 watts
at 12.0 Vdc 0.048 watts
Maximum line resistance:
4-20mA:                           at 36.0 Vdc and 21mA, 1142 ohms*
at 24.0 Vdc and 21mA, 571 ohms
at 12 Vdc and 21mA, < 72 ohms**
*Maximum allowable with HART® communication is 700 ohms
**See the current/resistance chart
HART mode (4.0mA):       < 650 to 700 ohms
Polarity protection: 4-20mA, Diode in series with loop, FOUNDATION Fieldbus and Profibus PA,
polarity insensitive
Update rate: 10 measurements per second
Minimum measuring span: 76.2 mm (3.0 in), consult factory if smaller span is required
Damping: Field Adjustable, Range: 0.1 to 60 seconds
Alarm output: NE43, Software or Hardware selectable. Upscale (21 mA) or Downscale (3.6 mA)
Surge Suppression Integral surge suppression available with option code S1
Ambient temperature: -40 to 85ºC (-40 to 185ºF) Ambient2
Humidity: 0 to 100% RH
Linearization: 21 Point Table Available
Temperature sensor (optional): 1000 ohm Pt RTD, option code SER or STL
Temperature tolerance class: IEC 60751 Class B, + (0.3+0.005[t]), -700 to 2300C
Enclosure: Dual Compartment
Enclosure material: Cast Low Copper Aluminum with Powder Coat or 316 Stainless Steel
Device tag material: AISI 316 Stainless Steel
Electrical connection: Two M20 x 1.5 or two 1/2in. FNPT, adapters and bus connectors also available
Ingress protection: IP66, NEMA 4X
Notes:
1 Measurement accuracy is recorded at factory ambient conditions (23.88 °F +/-5.6 °C (75 °F +/-10 °F)) using a calibration magnet. Accuracy may be further influenced by other factors such as float
hysteresis, installation, process conditions and ambient conditions.
2 Some agency approvals may differ.
HART® is a registered trademark of the FieldComm Group
SENSOR TUBE
Material:
Standard: 316/L Stainless Steel
Options:   Alloy 20, Hastelloy® C-276, FEP-TEFLON® jacketed, electropolished 316/316L Stainless
Steel, others on request
Process temperature:
Standard: -195.5 to 121.1ºC (-320 to 250ºF)
Options:   up to 427ºC (800ºF) with options
Process pressure:
Standard: -1.0 to 124.1 bar @ 149ºC (-14.7 to 1800 psig @ 300ºF)
Options:   165.47 bar (2400 psig) maximum with the HP probe type
Probe length:
Standard: 304.8mm to 9.14m (1 to 30 ft)
Options:   22.86m (75ft) maximum w/ W7 flexible probe in sensor well
Probe length tolerance:
Standard/Options: ± 3.2mm (0.125in) up to 3.0m (10ft); +/- 6.4mm (0.25in) up to 6.0m (20ft); ± 9.0mm (0.35in) up to 9.0m (29.5ft); +/- 25.4mm (1.0in) up to 22.86m (75ft)
Mounting:
Standard:3/4 in MNPT compression fitting
Options:plugs, threaded fittings
Catalog and Questionnaire List