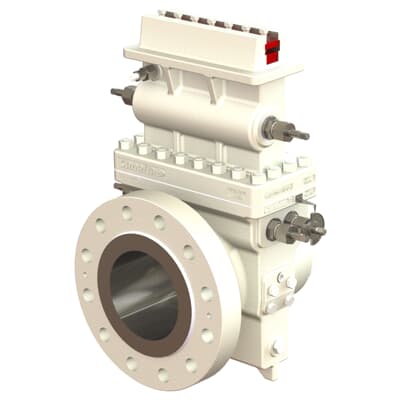 FPD212 is dual-chamber orifice fitting, suitable for fiscal (custody transfer) applications. Subject to customer's own protocols, these fittings may enable orifice plates to be inspected and / or replaced without removing the fitting itself from the pipeline.
The FPD212 dual-chamber orifice is a proven system for safely and quickly inspecting and changing orifice plates. Orifice meters used in the Oil & Gas industry are typically of either the single-chamber or dual-chamber design.
Single-chamber orifice fittings have an orifice plate that can be replaced without removing the fitting from the pipeline. However, before the plate can be withdrawn, the flow must be stopped and the pipeline vented.
Dual chamber orifice fittings such as the FPD212 have an extra chamber into which the orifice plate is first withdrawn; this chamber is then isolated from the pipeline. This means that the flow in the pipeline does not necessarily have to be stopped to enable removal and refitting of the orifice plate and, although the second chamber must be vented, there is no requirement to vent the pipeline section.
The FPD212 dual chamber fitting can – subject to the operator's own protocols – sometimes allow the orifice plate to be inspected or changed whilst the line is still pressurised.
However a safer and more industry-accepted meter to use in those situations is the FPD220 Double Block & Bleed Dual chamber meter
The features of the FPD212 are :
High-pressure solution for up to ANSI 2500 rating
Rated to 10,000 psi (698 bar)
Maintenance can be performed at any time
No need to wait for annual shutdown
Catalog and Questionnaire List

Data sheet – FPD212 Dual-chamber orifice fitting