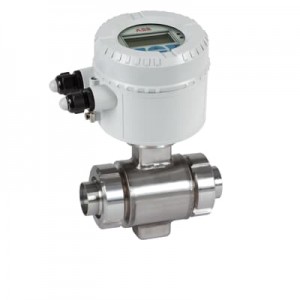 HygienicMaster FEH610 is designed specifically for the food & beverage industries in a cost-effective, robust package.  The sensor is fully CIP/SIP cleanable, manufactured from FDA approved materials and certified with 3A. Available as an integral or remote mount design – with or without local LCD display. All versions use a common transmitter with easy to understand diagnostic message for improved operator efficiency. HygienicMaster FEH610´s variable process connections simplify installation and reduce inventory and replacement costs.
Overview
HygienicMaster FEH610 is ideally suited for hygienic standard applications featuring all functions required – no more and no less.
The perfect device for everyday applications.
Simple and economical.
Field-proven powerful and flexible transmitter technology
– ABB common HMI concept
– Easy Set-up function for simple and intuitive configuration
– Through-the-glass operation
One single transmitter for all design types
– Integral mount design or remote mount design
– With or without local LCD display
– Universal wide range power supply
– 1 analog output, 2 digital outputs
Robust construction for rough environmental conditions
– Hermetically sealed flow sensor
– Protection of the inside components against
Condensation, vibration and corrosion
Damages during transport and mounting
General specifications:  
Measuring value error
– 0.5 % of rate
Nominal diameter
– DN 1 to 100 (1/25 to 4 in.)
Process connection
– Weld stubs, threaded pipe connections, Tri-clamps, wafer-type, flanges, external threads, flanges in accordance with DIN/EN, ASME, JIS
Nominal pressure
– PN 10 to 40, ASME CL 150, 300
Lining
– PFA vacuum stable
Protection class
– IP 67 or IP 68
Fluid temperature
– Up to 130 °C (266 °F)
Certificates
– 3A, FDA approved materials
Catalog and Questionnaire List

Data sheet – HygienicMaster FEH610 | Electromagnetic flowmeter