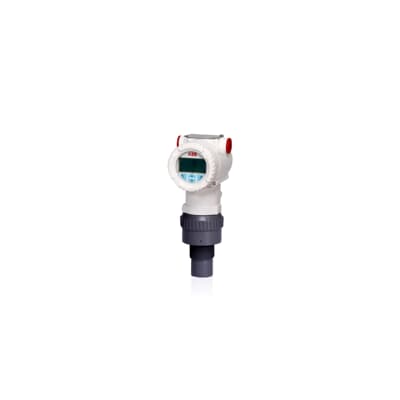 The LST300 is a high performance ultrasonic level transmitter that accurately measures level, distance and open channel flow in ranges up to 10m (30ft). It is a non-contact, level measuring instrument designed for use on liquid level in a wide range of applications and industries.
LST300 represents the future of level measurement. While using intelligent compact transmitters has always been attractive, certain limitations prevented their use in many applications. LST300 removes those old obstacles. Whether you have the risk of flooding or corrosive materials in the process, LST300 survive these conditions easily. With metal at the top and PVDF at the bottom, LST300 is the first compact ultrasonic to be resistant to corrosion on the entire instrument. Ingress protection approvals up to IP68 (optional) ensure the entire device can survive flooding.
LST300 combines the most advanced functions found on any ultrasonic in any class, in a compact form. Installation becomes easy thanks to the graphic echo display and advanced diagnostics. The false echo filtering algorithm combined with the best‑in‑class beam angle ensures easy installation in narrow areas with many obstructions. With through the glass technology, you never have to open the cover to configure the instrument. It is hard to believe that all this functionality is available on a device powered by only two‑wire loop power.
FEATURES: 
Maintenance free, non-contact continuous level sensor
2-wire instrument with HART digital communication
Up to 10 m measurement range
Wide temperature range of -40 to 85 ˚C
Accuracy of ±2 mm or 0.2 % of full span (the larger one)
Beam angle as low as 5˚ with false echo filtering for narrow spaces
Easy installation with graphic echo display, advanced diagnostic and easy setup menu
Unique GAP technology ensures the best performance under any condition
IP66/67 and NEMA 4X (can submerge to 1 m depth for 30 minutes)
ATEX, IEC & FM Intrinsic safe and non sparking approved
OPTIONS:
— Through the Glass (TTG) buttons, standard push buttons or without HMI interface
— 6 m (20 ft.) or 10 m (32 ft.) measurement range
— FM, ATEX, IECEx or NEPSI approved, intrinsically safe or non‑sparking
— Standard, extendable or floor mounted brackets available for easy installation
— Flange mounting options
The on‑board microprocessor simultaneously fires an electronic pulse and starts a timer. The transducer converts this electronic pulse to an acoustic pulse, which is directed toward the surface of the material being measured. When the acoustic pulse contacts the surface of the material, energy is reflected back to the transducer, which converts the energy back to an electronic pulse. This pulse is sent back to the microprocessor, which stops the timer and determines the time‑of‑flight of the signal. By combining the speed of sound through air and the time‑of‑flight of the pulse, the microprocessor accurately determines the level of the product. Powerful software removes false echoes from the signal and electronic filters remove ambient noise.

Catalog and Questionnaire List

Data sheet – LST300 | Compact ultrasonic level transmitter