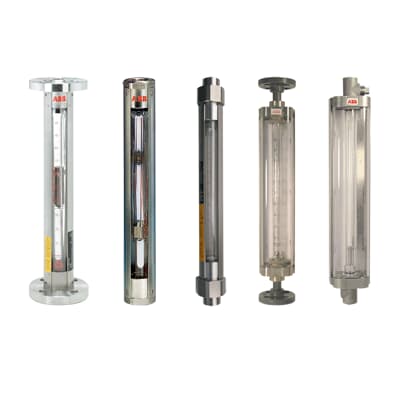 The wide variety of float weights and meter tubes allows the glass tube flowmeter FGM1190 to be matched exactly to the required flow range. The three ribs, parallel to the center axis of the meter tube, guide the float over the entire flow range. This enables a high degree of reproducibility because the float is absolutely centered in the meter tube.
Designed for flowrate measurements in many industries including system manufacture, food, water treatment plants and chemical. Aggressive fluid applications are possible because the fluid wetted parts can be made from a wide variety of different materials.
Design type FGM1190-87
– With threaded pipe connection in accordance with DIN 2950.
Design type FGM1190-97
– With vertical internal thread connection or threaded connector in accordance with
DIN 11851, DIN 405 part1 for the food and beverage industry.
Design type FGM1190-98
– With flange connection in accordance with DIN and ASME.
Easy range change and cleaning-no removal from the line required.
Excellent visibility of flow rate over a linear scale.
General specifications:
Application
– Clean, low viscosity liquids and gases
Mounting
– Vertically, in line
Connections
– 1/4 in. to 2 in., threaded, DN 10 to DN 50 flanged, SC15 to SC50 hygienic (DIN11851), vertical
Flow ranges
– Water flows: 0.002 to 17600 l/h
Flow turndown
– Typically 10:1
Operating pressure
– Up to 18 bar (261 lbf/in 2 g)
Operating temperature
– Up to 180 °C (356 °F)
Nominal scale length
– 100, 130 or 250 mm (4, 5 and 10 in.)
Accuracy
– Class 1.6 to Class 6, depending on tube diameter and float type
Alarms
– Inert gas switches, up to 2 off
Tube material
– Borsilicat glass
Float material
– Stainless steel, Glass, Sapphire, Carboly, PVC, Tantalum, HastelloyTM, Aluminium, PTFE
Fitting material
– Stainless steel, PVC, PVDF
Catalog and Questionnaire List