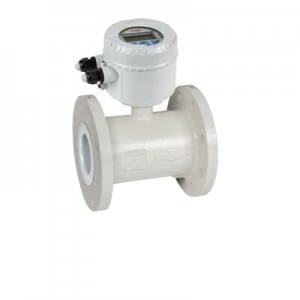 ProcessMaster FEP610 offers robust, cost effective flow measurement with the industry´s widest range of liners, electrodes and sizes to meet the needs of all industrial standard applications. The ProcessMaster´s concept comprises of uniform operating concept with a high degree of performance and reliability, assuring the longest service life.
Overview
ProcessMaster FEP610 is ideally suited for industrial standard applications featuring all functions required – no more and no less.
The perfect device for everyday applications.
Simple and economical.
Field-proven powerful and flexible transmitter technology
– ABB common HMI concept
– Easy Set-up function for simple and intuitive configuration
– Through-the-glass operation
One single transmitter for all design types
– Integral mount design or remote mount design
– With or without local LCD display
– Universal wide range power supply
– 1 analog output, 2 digital outputs
Robust construction for rough environmental conditions
– Hermetically sealed flow sensor
– Protection of the inside components against
Condensation, vibration and corrosion
Damages during transport and mounting
General specifications:  
Measuring value error
– 0.5 % of rate
Nominal diameter
– DN 3 to 2000 (1/10 to 80 in.)
Process connection
– Flange in accordance with DIN, ASME, JIS
Nominal pressure
– PN 10 to 40, ASME CL 150, 300, JIS 10K
Lining
– Hard rubber, soft rubber, PTFE, PFA, ETFE
 Catalog and Questionnaire List