CoriolisMaster FCH400 series of compact Coriolis mass flowmeters for hygienic applications feature low pressure drop, high capacity, intuitive ABB common display,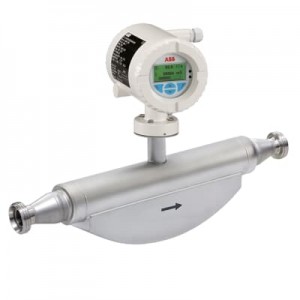 five modular I/Os and HART communication. The FCH400 series offers on top EHEDG certified cleanability with polished wetted materials.
Overview
With no up or downstream piping requirements the compact Coriolis flowmeters can be installed in the tightest spaces, enabling applications not possible before.
The FCH400 series delivers: 
Designed for hygienic applications
– EHEDG certified
Up to five modular I/Os
– Multivariable meter design
– Optional plug-in cards
– Automatic firmware update
SmartSensor
– All digital solution
– Installation flexibility
– Meter intelligence located in the sensor
SensorApplicationMemory
– Maximum data security
– Plug and play electronics replacement
ABB common look and feel
– Easy Set-up
– Operation through the glass via capacitive keys
VeriMass on-board verification and diagnostics
– Online preventive maintenance
– Extended maintenance cycles
– Reduced maintenance effort
Designed for 70 °C (158 °F) ambient temperature and high vibrations
Lower pressure drop
Self-draining
Global approvals for explosion protection
The FCH450 adds:
DensiMass software for direct concentration measurement
FillMass software for filling application control
General specifications:
Nominal sizes / measuring ranges
– DN 25 (1 in.) / 0 to 35,000 kg/h (77,162 lb/h)
– DN 50 (2 in.) / 0 to 90,000 kg/h (198,416 lb/h)
– DN 80 (3 in.) / 0 to 250,000 kg/h (551,156 lb/h)
Ex approvals
– ATEX zone 0/1/2, cFMus Div 1/2 and zone 0/1/2
Hygienic approvals
– EHEDG and FDA material compliant
Wetted materials
– 1.4404 / 1.4435 (316L)
Accuracy for liquids
FCH430
– Mass and volume: 0.4 % o. r. / 0.25 % o. r. / 0.2 % o. r.
– Density: 10 g/l
FCH450
– Mass: 0.15 % o. r. / 0.1 % o. r., volume: 0.15 % o. r.
– Density: 2 g/l or 1 g/l
Measuring medium temperature
FCH430
–  -50 to 160 °C (-58 to 320 °F)
FCH450
–  -50 to 205 °C (-58 to 400 °F)
Outputs
– 5 modular I/Os
– HART 7.1
– PROFIBUS DP
– Modbus
Power supply
– 11 to 30 V DC, 110/230 V AC
Catalog and Questionnaire List